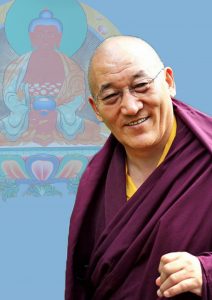 Our most kind teacher, H.E. Chöje Ayang Rinpoche, will again lead his qualified students in a Nyingma Phowa practice and the long Aspiration of Sukhavati prayer.
If you have previously taken Rinpoche full Phowa Course, you may join by live streaming on Monday, August 3, 2020.
This practice is private, and only available to Rinpoche's students who have completed his Phowa Course. Please respect this samaya.
Here are the scheduled times for different countries:
USA Hawaii – 12:30 am
Canada/ USA West Coast – 3:30 am
Canada/ USA East Coast – 6:30 am
Paris – 12.30 pm
Moscow – 13.30 (1:30 pm)
India – 16.00 (4:00 pm)
Vietnam – 17.30 (5:30 pm)
Hong Kong / Taiwan – 18.30 (6:30 pm)
Japan – 19.30 (7:30 pm)
Sydney – 20.30 (8:30 pm)
These are the new links to connect online:
YouTube link:
https://youtu.be/H65PsKkpC7s
Zoom Link:
This is reserved for students in China and other countries that cannot connect to YouTube.
https://us02web.zoom.us/j/84993607326?pwd=OTFxMzRiNGRlQ2NWSys4bGYyclp0UT09
Meeting ID: 849 9360 7326
Passcode: 267169
Watch a short video of the Reading of the Tripitaka (108 volumes of Buddha's teachings) done by the monks for Chokhor Duchen on July 24th. Make offerings for the puja, fish release and butter lamps, or for one of Rinpoche's spiritual and humanitarian projects here (please select a project).