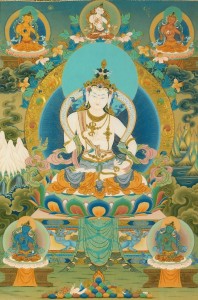 Vajrasattva Five Buddha Families
H.E. Chöje Ayang Rinpoche will offer a Vajrasattva meditation guided practice by live streaming on Thursday, September 17, 2020. This practice is for students who have already received his Vajrasattva teachings, and will include limited guidance at each step of meditation. Students should have received one of these empowerments to participate: Hundred (Peaceful and Wrathful) Deities, Vajrasattva, or Five Buddha Families. The Vajrasattva practice text is contained in the Nyingma Phowa text.
This replaces the Phowa practice that was originally announced for this day.  
These are the scheduled times for different countries (here is a Time Zone Converter):
USA Hawaii – 12:30 am
Canada/ USA West Coast – 3:30 am
Canada/ USA East Coast – 6:30 am
Paris – 12.30 pm
Moscow – 13.30 (1:30 pm)
India – 16.00 (4:00 pm)
Vietnam – 17.30 (5:30 pm)
Hong Kong / Taiwan – 18.30 (6:30 pm)
Japan – 19.30 (7:30 pm)
Sydney – 20.30 (8:30 pm)
These are the new links to connect online:
YouTube
https://youtu.be/pnklPkystoI
Zoom (please reserve for students in China and other countries that cannot access YouTube)
https://us02web.zoom.us/j/89759241694?pwd=WlJYd3BTb3o5UVBVRzdwMXUxQW8zdz09
Meeting ID: 897 5924 1694
Password: 267169
We hope you enjoy these photos from the recent Dorje Phagmo (Vajra Yogini/Vajra Varahi) Puja 
at Ayang Rinpoche's monastery in Bylakuppe.