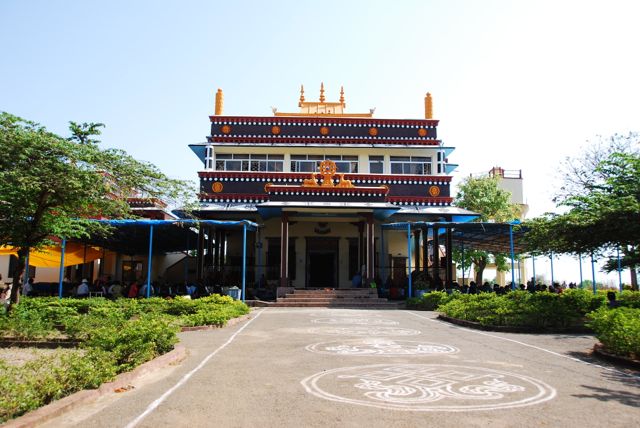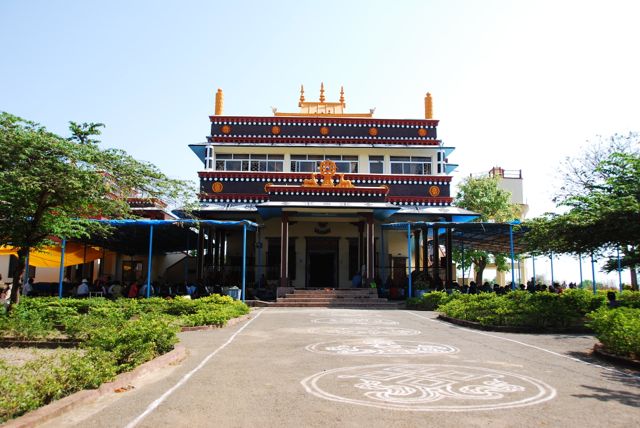 The
100 Million Mantra Amitabha Drupchen
ran from
March 31 to April 15
at Ayang Rinpoche's monastery, Dechen Choekhor Ling, in Mundgod, South India.  The Tibetan Settlement in Mundgod is an overnight bus ride from Rinpoche's main monastery in Bylakuppe. Thank you to everyone who participated.
The Amitabha Drupchen will last until  the total count of 100 million Buddha Amitabha mantra is accumulated. The Vajra Master for the Drupchen is Drikung Khenpo Konchog Tashi (pictured above). All the rinpoches, khenpos, monks, nuns and lay people in the settlement will be chanting Buddha Amitabha mantras to accumulate the 100 million total during the Drupchen. Ayang Rinpoche's brother, Gen Tsewang Tharchin, will oversee the Thungdrub (accomplishment of the 100 million).
Ayang Rinpoche requests that all Buddhist practitioners and others associated with the Amitabha Foundation worldwide contribute
to this practice and send their recitations of the Buddha Amitabha Mantra to accumulate the 100 million total. 
Mantras may be accumulated and the totals sent in daily beginning April 1 for approximately 10 days.
 Send your mantra totals directly to
drikungcharitablesociety@yahoo.com
. Please do not send your mantra totals to Amitabha Foundation USA.

The Buddha Amitabha mantra is OM AMI DEWA HRI.
People who would like to
make an offering towards meals, butter lamps, tsog, tea, tormas, offerings for monks and nuns, travel expenses or other puja-related expenses
, may send in their contributions directly to the monastery's account (see the information below).  For a US-tax-deductible donation you may also send a check in USD to Amitabha Foundation USA, P.O. Box 2572, Aptos, California 95001, or use the link below. You may dedicate the merit of your offering to your loved ones.