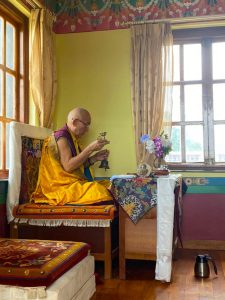 Ayang Rinpoche Making a Light Offering at his Monastery in Bylakuppe, India
As you plan your Holiday gifts for family and friends, take a moment to remember how much you appreciate your kind root lama and how he or she embodies the loving kindness, compassion and wisdom you have come to treasure as a result of being introduced to the Buddhadharma.
H.E. Chöje Ayang Rinpoche has brought the undeceiving truth of Dharma to thousands of fortunate practitioners, primarily through the practice of Phowa, the transference of consciousness to the enlightened state at the time of death.
Click on this image to see a documentary video made in 1997 about
Ayang Rinpoche and the Phowa teachings in Bodhgaya.
Today, Rinpoche has ongoing projects to build temples and retreat centers in Bodhgaya and Bylakuppe, India. He is responsible for nearly 400 monks, several monasteries in Tibet and India, a Retreat Center in Nepal, and a safe-childbirth program and clinic in Tibet.
All of these projects require considerable funding. Rinpoche has not been able to travel around the world for nearly two years–a time when he would ordinarily have received donations from his grateful students for bringing them precious Dharma teachings.
We encourage you to make a Year-End donation now so Rinpoche will have the funds he needs to support the monks, facilities and humanitarian projects for which he is responsible.

With your Year-End donation, you may send in names for dedication. Names of donors and loved ones will be sent to the monastery to be included on a prayer list for the first 2022 puja in Bylakuppe.
The Amitabha Foundation USA must receive offerings (online or by check) by December 31 at midnight (Pacific Time) to count as a tax-deductible donation in 2021. 
Donations
 are welcome any time.