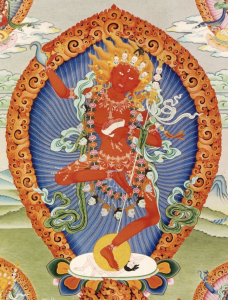 The annual Vajrayogini (Dorje Phagmo) Drupchö (extensive prayer ceremony) concluded September 2, 2023 at Ayang Rinpoche's monastery in Bylakuppe.
Ayang Rinpoche said about Vajrayogini: "Among all the wisdom dakinis, Vajrayogini is the highest. She represents the True Nature of Mind, Prajnaparamita, the mother of all the Buddhas of the three times and ten directions." (Sydney, March 2018)
You may still send offerings to support the cost of the Vajrayogini Drupchö and make dedications in the name of a loved one. You are welcome to send donations to the Drikung Charitable Society account. For a tax deductible donation in the U.S., please send your check to the Amitabha Foundation, P.O. Box 2572, Aptos, California 95001, or donate online below. Dedications submitted by September 12th at 5 pm Pacific time will be posted in the temple for the conclusion of the Yarney Summer Retreat.