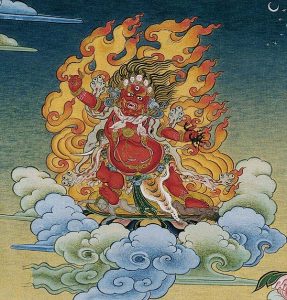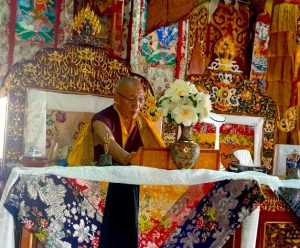 Guru Dragpo Puja and Gutor Ceremony
February 23 – March 1, 2022
At the end of each lunar year, it is a Tibetan Buddhist tradition to make offerings and perform wrathful pujas, such as Guru Dragpo, a wrathful form of Guru Rinpoche. This clears away negativity and obstacles on both physical and spiritual levels, to prepare for a New Year of opportunity, abundance and good fortune.
The annual Guru Dragpo puja at Ayang Rinpoche's monastery in Bylakuppe, India, begins February 23 and continues through March 1, 2022. Tibetan New Year (Losar), is March 3rd this year, the first day of the Water Tiger Year, according to the Tibetan calendar.
You may participate at home by reciting the Guru Dragpo short mantra:

OM AH HUNG ARTSIK NIRTSIK NAMO BHAGAWATE HUNG HUNG AH HUNG HUNG PHAT//
You may also participate by reciting the Guru Rinpoche mantra (see below) or the Seven-Line Prayer to Guru Rinpoche. Read Rinpoche's teaching on the Seven Line Prayer, and the prayer in Tibetan and English.

OM AH HUNG BENZRA GURU PEMA SIDDHI HUNG//
Ayang Rinpoche reminds us of Milarepa's saying that anyone sponsoring Dharma activities gains the same merit as the practitioners. If you would like to make a US tax-deductible contribution to the Guru Dragpo puja using PayPal or your credit card, please select the amount of your donation below. The full cost of the puja for 280 monks, nuns, khenpos and lamas is $21,650. The cost of one day of meals is $412 and monks offering is $927, not including extras for Rinpoches, Khenpos, Disciplinarian, Chanting Master and Shrine Master.
Here are some suggested donation amounts, but your offering of any amount will be appreciated and will be like a drop of water mixed in an ocean of merit. You may include a dedication for your offering in the name of a loved one, including pets. The deadline to submit names of loved ones for the prayer list is Sunday, February 27th at 5 pm PST, but donations to help cover the cost of the puja will bring merit and benefit any time.
You may also send a check in USD made out to Amitabha Foundation to: P.O. Box 2572, Aptos, California 95001. Mail the names for your dedication to info@amitabhafoundation.us.
For donors outside the United States, here is the link to make offerings directly to the monastery's account through the Drikung Charitable Society.
2020 Guru Dragpo Puja and Tsok Offering in Bylakuppe, India