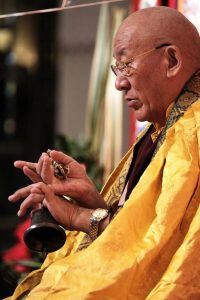 Ayang Rinpoche Making A Summoning Mudra  
(Photo courtesy of Amitabha Foundation Hong Kong)
As you enjoy Holiday gift giving and time with family and friends, take a moment to remember how much you appreciate our most kind lama and how he embodies the loving kindness, compassion and wisdom you have come to treasure as a result of being introduced to the Buddha dharma. H.E. Chöje Ayang Rinpoche has brought the undeceiving truth of Dharma to thousands of fortunate practitioners, primarily through the practice of Phowa, the transference of consciousness to the enlightened state at the time of death.
Ayang Rinpoche has abandoned all selfish and personal aims to devote his life only to benefit others. Today, Rinpoche is responsible for nearly 400 monks, several monasteries in Tibet and India, the Amitabha Retreat Center in Nepal, a safe-childbirth program and clinic in Tibet, and ongoing projects to build temples and retreat centers in India.
All of these projects require considerable funding. Rinpoche has not been able to travel around the world for nearly three years–a time when he would ordinarily have received donations from his grateful students for bringing them precious Dharma teachings. By assisting a great Bodhisattva achieve his or her aims, we ourselves acquire great merit: a storehouse of goodness that will bless us in this and future lives.
We urge you at this time to do all you can to help Rinpoche complete the visionary Amitabha Temple Project in Bodhgaya. This temple is designed for one purpose alone: to provide a range of practical benefits, deep solace and powerful inspiration to all people – regardless of religious faith – who visit or see it. This is the best time for all his students to show their appreciation for Rinpoche's extraordinary kindness and to support his vision for this Temple Project.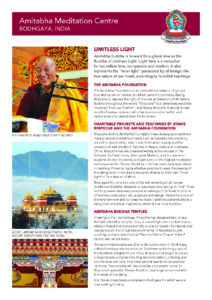 We encourage you to make a Year-End donation now so Rinpoche will have the funds he needs to complete this project.

With your Year-End donation, you may send in names for dedication. Names of donors and loved ones will be sent to the monastery to be included on a prayer list for the first 2023 puja in Bylakuppe.
The Amitabha Foundation USA must receive offerings (online or by check to P.O. Box 2572, Aptos, California 95001) by December 31 at midnight (Pacific Time) to count as a tax-deductible donation in 2022. 
Donations
 are welcome any time.